The interactive, embedded scoreboard is one of the main features of ScoreCam and allows you and your viewers to see the score, just like in a real broadcast!
ScoreCam has plenty of scoreboard designs to choose from, whether it be Volleyball, Baseball, Basketball, Football, Soccer (Futbol) or any other event or sport. We are always looking for new designs so if you have one in mind send us an email from within ScoreCam's app. (Tap, Settings

, then tap Send Feedback/Bug Report).
Here's a rundown on some of the Scoreboard Settings:
Show Scoreboard
Toggle to Show/Hide the Scoreboard.
| | |
| --- | --- |
| | TIP:You can also toggle the scoreboard from the main camera screen by tapping the recording timer label located on the center of the Top Bar. |
Scoreboard Style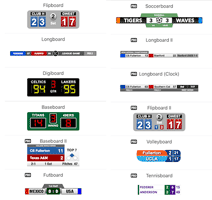 The scoreboard design to display/embed in your videos. Here are some details of current scoreboard designs (

indicates that a Pro or subscription license is required to use):
Flipboard: A classis volleyball design and ScoreCam's very first scoreboard
Longboard: Good for any sport
Digiboard: Designed for basketball but can be used for other sports as well
Baseboard: Perfect for those Little League games!
Baseboard II : Updated baseball scoeboard with more features (Note: Second device running Scoreboard Remote is required to operate this scoreboard)

Futboard

: First soccer-based scoreboard but really can be used for any event

Soccerboard

: Now comes with Game Clock Technology!

Longboard II

: A scoreboard which can be configured for multiple sports but setup for volleyball by default

Longboard (Clock)

: Similar to longboard II but has Game Clock Technology

Flipboard II

: Volleyball scoreboard which shows match and set scores

Volleyboard

: Unique volleyball scoreboard which shows match and set scores

Tennisboard

: You asked for it and now it's here. Point, Set and Match scores all on one scoreboard.
Scale

Scales the scoreboard from 25% to 200%.
Position

Positon the scoreboard just about anywhere on the screen.
Team Names, Colors & More
Team 1 / Team 2 Color
Change the colors of the panels. Not applicable to all scoreboards.
Team 1 / Team 2 Name
Change the team names.
Game Interval
Customize to your liking.
Use <none> to not display those panels as shown below:
| | |
| --- | --- |
| | |
| Game Interval | with <none> selected |
Description
Not utilized on all scoreboards. On the Longboard, for example, displays a description of the event being played. Fully customizable.
Use <none> to not display descripation panels as shown below:
| | |
| --- | --- |
| | |
| Description | with <none> selected |
Reset Scores
Resets the scores to zero
Flip Teams & Scores
Quickly flip team names and their associated scores with the tap of a button (does not change the panel colors)
Flip Teams, Scores & Colors
Quickly flip team names, their associated scores and panel colors with the tap of a button.