YouTube Live Stream Now
Along with Twitch, YouTube Live Stream Now is one of the recommended services to use with ScoreCam.
Getting your RTMP credentials for YouTube Live Stream Now is fairly straight forward if you follow the instructions below. Instructions for getting and sharing your streaming link are also provided.
This document assumes you have a YouTube account and are logged into that account AND have Live Streaming enabled.
External links:
How to setup channel: https://stackoverflow.com/questions/39275889/how-to-embed-new-youtubes-live-video-permanent-url
How to set up up YouTube Live Stream Now in ScoreCam
It's actually pretty easy as you only need to enter in the STREAM KEY setting in ScoreCam.
First, make sure you have Live Streaming setup on your YouTube account. This can take 24-48 hours to be approved.
Once your Live Streaming account is setup you can go directly to your Live Stream Dashboard.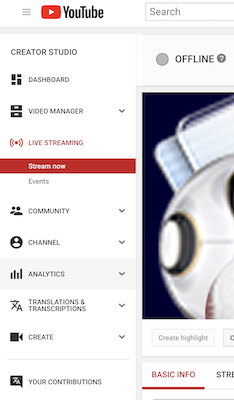 Click on the "Stream Now" page. In addition to setting your Event name, description, category and privacy options you will now need to verify the Server URL and copy the Stream Name/Key contents (select the "Reveal" button to see the key):

Now you would think this would be very easy to copy the Stream name/key and paste it into ScoreCam's Stream Key field, but it's not that quite simple. While it can be done, it might be easier to just enter this key into ScoreCam manually.
| | |
| --- | --- |
| | TIP: If you do try to copy/paste, it is best to hit the 'Reveal' button and then quickly tap at the end of the key. Now tap and hold in the same location and then drag the beginning selection handle to the left. Then select 'Copy' from the menu displayed above the text, all before the text is hidden again. It's an art but it can be done within a few tries or so! |
You are now ready to stream live. Simply hit the start button on ScoreCam and you will be broadcasting to the world!
You can verify this by using another device or computer and monitoring your dashboard. Be sure to wait at least 15-30 seconds for the live stream to update.
How do I share my the link to my live stream video using this method?
The good news is that YouTube offers an abundance of ways to share your Live Stream Link when you are using the Stream Now option.
The first thing you need to do is go to your Live Stream Dashboard.
NOTE: If you are not already logged in, it can be a bit tricky when using an iOS device to access this page. It may even take you to the YouTube app if that is installed and it may ask you which browser to use (Safari or Chrome, always choose Safari). You may also have to log in twice: Once from the YouTube app and once from Safari. Here are some screen-shots of what you may go through if you are not logged in.
The key is to get the Desktop Version of the page so you can see the "Share" pane.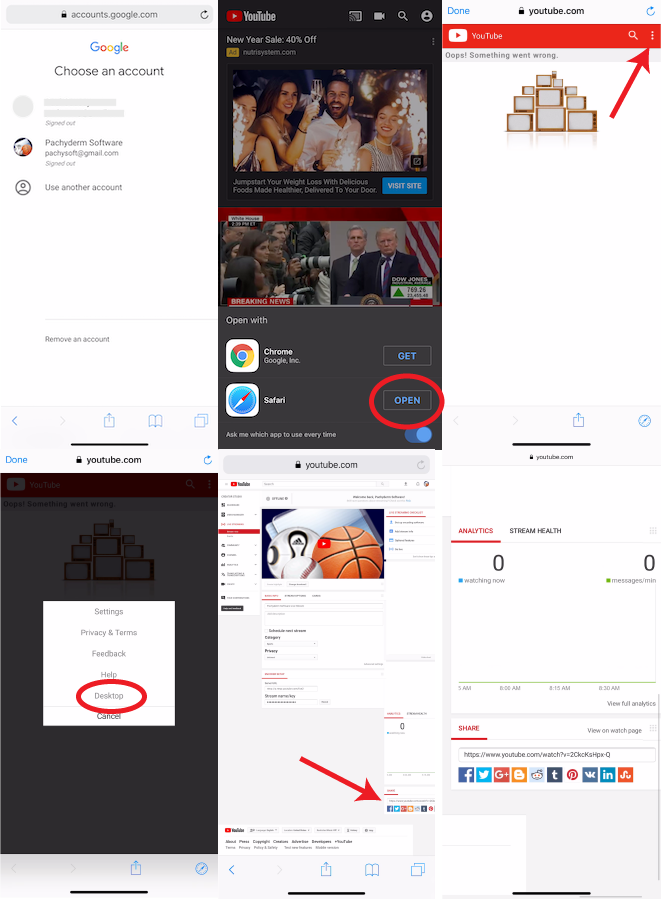 The link to share the Live Stream is located on the "Share" panel of your Live Streaming dashboard. Numerous share options are available.

If you want to share via the Messages app, you can tap-and-hold on the "View on watch page" link, select "Share..." and then you get a plethora of options including sharing via Messages.
Or, a little bit harder way is, you can tap the "View on watch page" link. This will open the YouTube app (if installed) and you can then share via messages by first closing the "Live Chat" area and then tapping the "Share" button.
| | |
| --- | --- |
| | TIP: If you tap and hold (do not force press) on the "View on watch page" link, even more options are available to share the link |
This link does change so, once you share the link be sure to not stream (e.g., testing) until the time of the event. If you do stop the stream, you can start it right away and the link will not change. Not sure what that stop duration is before a new stream is created but it's probably a couple minutes.
How to embed for URL for a channel's Live Stream?
Here is the link to use to embed your live stream video onto a web page:
https://www.youtube.com/embed/live_stream?channel=CHANNEL_ID
You can get your CHANNEL_ID from this link: https://www.youtube.com/account_advanced
| | |
| --- | --- |
| | NOTE: Your stream must be public to be able to embed your live stream video |