Periscope Producer

To get your RTMP credentials for Periscope, the easiest way is if you already have the Periscope App on your iOS device.
| | |
| --- | --- |
| | WARNING: Use your twitter feed to verify Live Stream is working as the Preview page does not always indicate if your Live Stream is working or not. |
How to get the ScoreCam STREAM KEY from the Periscope App
In the Periscope app, navigate to your Profile (upper right corner of the app) and then scroll down and select Settings: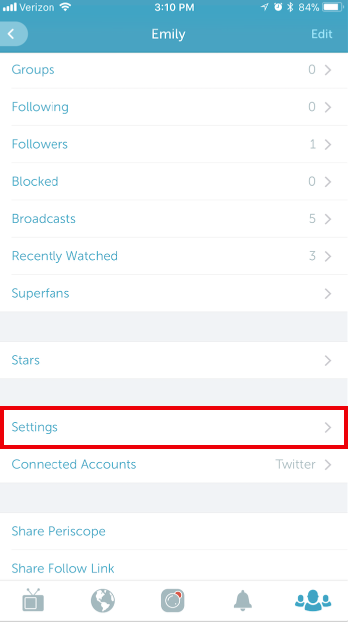 Scroll down to Advanced Sources and select Periscope Producer: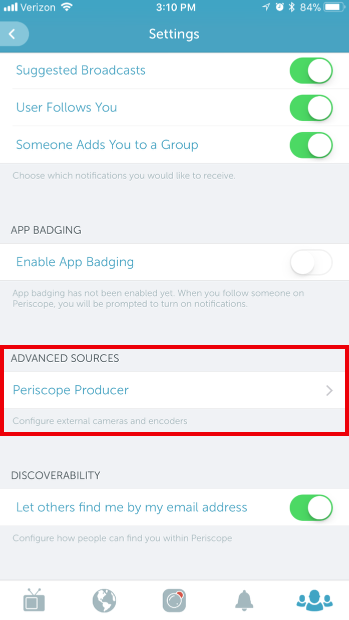 Verify the Server URL matches ScoreCam's Stream Link field. Copy the Stream Name/Stream Key value and paste it into ScoreCam's Stream Key field.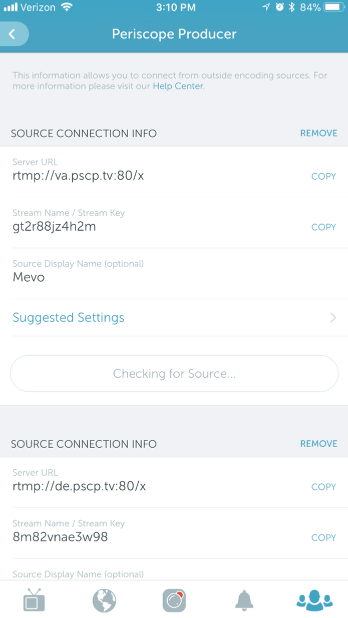 You are now ready to stream live.
Starting the Live Broadcast
You must start Live Stream with device in LANDSCAPE. Also, unlike YouTube Live Stream Now, using Periscope Producer requires you start the LIVE broadcast from either your device, another device or a web browser. (See this PDF link for official instructions)
| | |
| --- | --- |
| | IMPORTANT: It appears, from our testing, that ScoreCam needs to be LANDSCAPE mode, otherwise the Live streaming doesn't work (No idea why this is required). |
Once your ScoreCam device is oriented into Landscape, tap the Start button and then go to the Periscope app on your device (or another device or computer). You are not live but you are streaming to the Periscope servers as you should now see the "Preview Broadcast" button. Select this button, make sure the Twitter icon is selected if you want to share the Live Stream, then start the broadcast by selecting the "Go LIVE" button: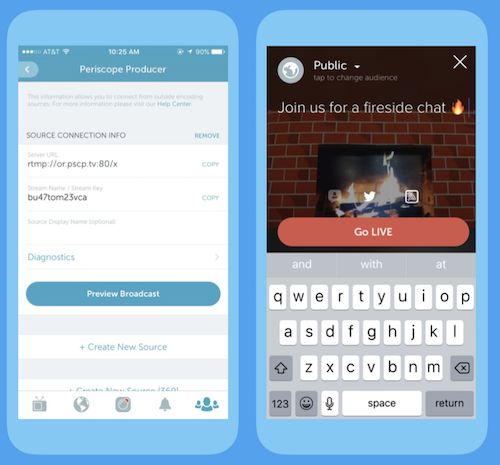 How do I share my the link to my live stream video using this method?
As long as you selected the "Share to Twitter" option before you went live, you can now point users to your Twitter feed and they can see the Live Stream