Facebook Live (Currently in beta)
Last updated 10/24/2019
| | |
| --- | --- |
| | Facebook Live is currently in beta testing and is available with verion 3.6.0 and above. |
Stream Link and Stream Key
First thing you must do is enter your Stream Link and Stream Key settings into ScoreCam. Here are some detailed instructions to get these settings from Facebook.
1. Log into Facebook and go to the Create Live Stream page.
2. Click Create Live Stream.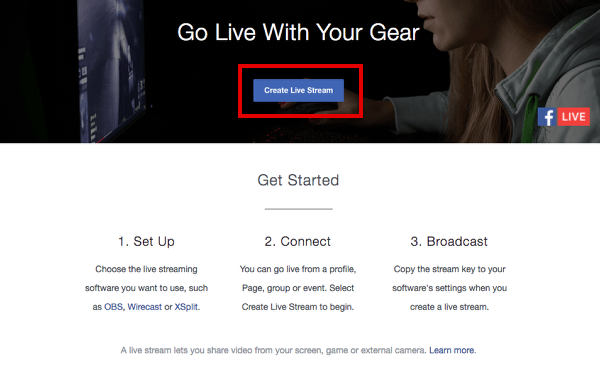 3. On the right side (not shown below), choose where you want your stream to go (e.g. Your Timeline, a Group), your audience, and any title or caption you'd like to go with it.
4. In the middle of your screen (shown below), you will see your Server URL and Stream Key.
Make sure the "Use a persistent stream key" is checked. This is required.
5. Copy and paste the Server URL and Persistent Stream Key fields into ScoreCam's Live Stream Settings, Stream Link and Stream Key.
NOTE: One way to do this is to send yourself an email with these settings and then open the email on your mobile device and copy/paste from there.
Steam Live from ScoreCam using Facebook Live
Now that you have the proper settings for Facebook Live entered, you can now start streaming. Here's how:
Tap the Start button on ScoreCam


Follow the instructions which are displayed


Some potential hiccups:
You must first be logged into Facebook.
Logging out can be difficult but you can do so by tapping the small down arrow at the very right of the page. If you zoom in, and to see the menu, you have to swipe right. You may also have to tap the "Log out" button twice.
Don't forget to rotate the device BEFORE tapping the Start Preveiw button
Recommended live video specifications such as supported bitrates and resolutions are detailed on Facebook.
Video: Setup Live Streaming with Facebook Live (Beta