Facebook Live (BETA. Not officially supported)
Last updated 10/20/2021
| | |
| --- | --- |
| | Facebook Live is in beta and unofficially supported by ScoreCam and is only provided as a courtesy to users who are wanting a way to use ScoreCam with Facebook Live. FB Live will continue in this state until Facebook allows developers to officically support Facebook Live streaming from mobile devices. Please contact Facebook and ask them to allow developers to support FB Live. |
TLDR: Use a service like Restream or Castr.
---
For the latest STEPS, see: Latest Facebook Live Setup Procedure
If you have improvements let me know.
As stated above, Facebook is not officially supported. I can no longer test with Facebook Live because multiple Facebook accounts have bans/suspensions for absolutely no reason and they are impossible to reach to appeal their decisions. Quite frankly, from a developer standpoint, I can no longer justify the time spent on their service. I honestly don't see how they can survive operating as they do. I highly recommend moving to an alternative platform and streaming service and if you still need to stream to Facebook without jumping through all the hoops, upi can use a service like Restream or Castr.
In addition, feel free to contact Facebook and let them know your frustration in them not allowing ScoreCam to use the APIs for live streaming and allow for a much easier, and proper, way to get set up.
---
---
The following sections are currently out of date but left here in case some information still applies.
Get Latest Settings
---
With a Facebook account selected (Settings > Live Streaming Seetup > Selected Account), from the "Advanced" area, tap the "Reset Values" to get the latest Facebook GO LIVE LINK and USER AGENT STRING values.
---
Enter Stream Link and Stream Key
---
Next thing you must do is enter your Stream Link and Stream Key settings into ScoreCam.
Here are some detailed instructions to get these settings from Facebook.
1. Tap the start button on ScoreCam or Log into Facebook and go to this page.
2. Tap Create Live Stream on Facebook page so that you see the connection page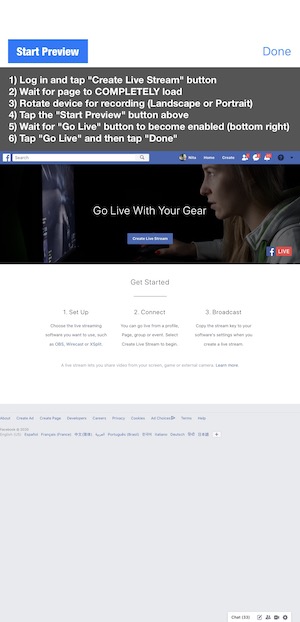 3. Make sure the "Use Stream Key" is selected under "Get Started" area on the Facebook page and be sure "Use a Persistent Stream Key" is checked, otherwise this will not work.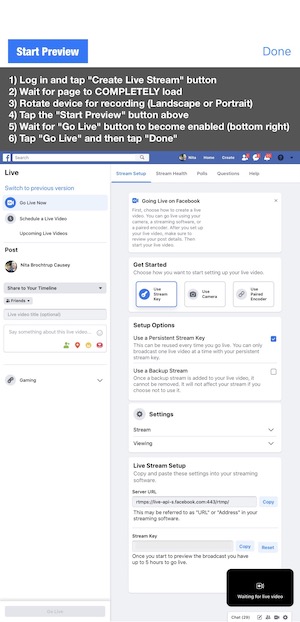 4. Tap the "Copy" next to the Stream Key. The Stream Key is now copied to the clipboard. Also take note of the "Server URL" so that you can verify this is correct in ScoreCam.
5. Tap "Done" in upper right to close the setup page and then go to the ScoreCam settings and paste into the "Stream Key" field for Live Streaming.
6. Verify the "Server URL" on the Facebook settings match the "Stream Link" setting on ScoreCam.
7. Close settings and then tap the Start button. Tap Create Live Stream on Facebook page to once again get to the Facebook live stream setup page in the above image.
8. On the left side, choose where you want your stream to go (e.g. Your Timeline, a Group), and any title or caption you'd like to go with it.
WARNING: When you change this setting, this also changes the Stream Key, even if you have the "Use a persistent stream key" checked. (i.e., there is a different stream keys for each selection). If you do this repeat the steps above to re-enter your stream settings into ScoreCam.
---
Start Live Streaming with Facebook Live
---
Now you are finally ready to start streaming. Instructions are a little out of date in the app so be sure to follow these updated steps:
1. Rotate the device for proper orientation (Landscape or Portrait)
2. Tap the "Start Preview" button on the upper left. If "Starting Preview" overlay doesn't disappear after a few seconds, your stream key or link settings are not correct.
3. Tap the blue "Go Live" button at the bottom left of you screen. It will take a few seconds but you should then that button replaced with a red "End Live Video" button. You are now live!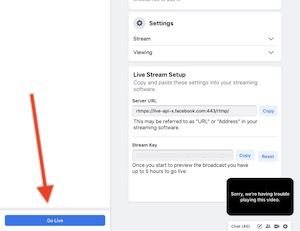 4. Tap the "Done" button on the top right

Some potential hiccups and troublshooting:
If you see an "No Data Being Received" alert displayed and you are positive you have a connection, to force closing ScoreCam to see if that fixes your problem.

Logging out can be difficult but you can do so by tapping the small down arrow at the very right of the page. If you zoom in, and to see the menu, you have to swipe right. You may also have to tap the "Log out" button twice.
Don't forget to rotate the device BEFORE tapping the Start Preveiw button
Recommended live video specifications such as supported bitrates and resolutions are detailed on Facebook.
Video: Setup Live Streaming with Facebook Live (Beta and video is now out of date)